Custom Bike Show #48
The sun is shining over Societetsparken in Norrtälje. It's Saturday the 4th of June 2022 and the park is filled with motorcycles and visitors. It is the first Custom Bike Show since the pandemic and it is noticeable in both the number of visitors and the number of bikes in the park.
228 bikes have been exhibited in the six different classes; Chopper, Classic, Custom, HD-chopper, Modified Standard and Racer.

Over 8000 people caught up with the sun.
This year, the Twin Club had established a new award called the "Twin Club Jury Award" when the AMD World Championship was suspended this year as well due to prevailing covid restrictions in some countries.
This year's jury consisted of five people who come from different genres in the noble art of motorcycle building and are represented by Ton "Beer" Beerepoot, Janne Berg, Mikael Orehed, Gert Sviberg and Olle Andersson.

The jury selected Anders Göth, Aad Heernskerk & Mark van der Kwaak and Ari Koski-Harja as winners but who were also found among the winners in the regular classes.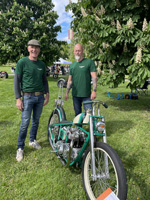 As usual, exhibitors and visitors came from all over the Nordic region and northern Europe. It is gratifying that people are going so far for this.

Around the exhibition, the day was full of activities in the park such as live music, craftsmen and vendors of food and various motorcycle accessories. Just outside the park, a stunt group entertained the audience with various tricks on a motorcycle.

With this, we once again welcome you back next year and hope that you will enjoy a nice weekend along with us in Twin Club MC!

Twin Club MC Norrtelje