Register
There is only a photo show at the web this year.
.

The registration for exhibitors are open from now and until june 5, 01.00 pm.
Hot tip! Sign up right now.
This is how it will work:
Follow the link HERE ... fill in your name, club, town, country, the name of your bike and of course some pictures and a short movie of your bike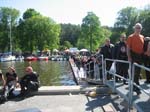 Don't forgett to vote!
Exhibitors at Custom Bike Show!

"The exhibition" is divided in 6 classes that we hope cover up all possible creations you can to be intended to turn up with.

Your entry as exhibitor will be done HERE ...

Exhibiting motorcycles should be able to drive.

HD-Chopper: Motorcycle with engine from HD or HD-copy as base, with an extended fork at minimum ca. 6 inches over stock.

Chopper: Motorcycle with optional engine, Triumph, Norton, BSA, Yamaha, Honda, or whatever as base, with an extended fork at minimum ca. 6 inches over stock.

Custom: Motorcycle with optional engine, with an extended fork at maximum ca 6 inches over stock.

Classics: Motorcycle of optional manufacture, older than 1969 and with "original" as a guiding star...

Modified Standard: Slightly modified motorcycle with modern design with original frame and engine case as base.

Racer: Motorcycle with optional engine, with a traditional racer, cafe racer, scarmbler or brat style.
.

Peoples Choice:
This year everyone can vote

World Championship in Custom Bike Building:

This year we don't select any winners to be sent to the World Chapionship in Colonge. If it will go as planned we will send last year's 3 winner.
.

Changes in the classes.

Cafe racer is replaced by "Racer" to allow similar bikes to attend like Scrambler, Racers etc.

Modified Harley is replaced by "Modiferid Standard" to allow bikes of all brands.

Trike and Bagger is no more. Exhibitors with Trike and Bagger are of course welcome to participate and will be placed in a class that fits best.For example, a HD-trike with long fork ends up in "HD-Chopper" and one with short fork ends up in "Custom" together with a really modified Bagger. A slightly modified Bagger will then ends up in "Modified Standard".
Swedish World Champion
Stellan the winner of World Championship 2007!
Wednesday august 8, Stellan was standing as the winner of 2008 "World Championship of Custom Bike Building" in Sturgis, USA ...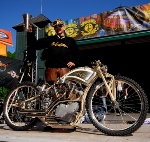 This year big winner of Custom Bike Show, Stellan Egeland.
Stellan started up the summer with grand slam at Custom Bike Show with 1: st prize in Classic Custom, Peoples Choice and the ticket World championship in Sturgis.
Media
Map