Hello and welcome all of you to this year of "Custom Bike Show™", Norrtälje.
As usuall we are happy to have the possibillity to arrange the event by some called the Swedish Championship of Bike building"! .
We look forward to a Societespark filled with beautiful motorcycles and happy people.



It's the goal too many after a long, dark winter of diligent build, fixing and polishing on the motorcycles that hopefully, perhaps for the very first time, will be started and to be driven to Norrtälje the first Saturday in June!
Many are those occasions when the owner of the winner bike has become complete with his bike in the morning of the exhibition day, and gray in the face of exhaustion enter his creation in order to rush to Norrtälje and to win prize in his class with a paint job who hardly had time to dry. It is called devotion!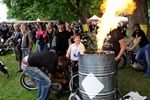 This year we run Custom Bike Show for the 49th time since 1971.
This year we will make some changes to the area. The main purpose is to fill the entire park with motorcycles, a bit like in the past. Of course, the exhibition, music and market stalls will also be there.
Of course, we also have the classical prize table of Custom Bike Show™ that this year is worth more than 40.000. - EUR .
In addition, we have for they who like, different types of refreshments and food to consume, also various goods and attractions on different places within the exhibition area.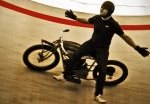 We know that you will see some of the world's best motorcycle constructions here in the park and hopes you will have a good day and experience.
With this, we once again welcome you and hope that you will enjoy a nice weekend along with us in Twin club MC!
Twin Club MC Norrtelje